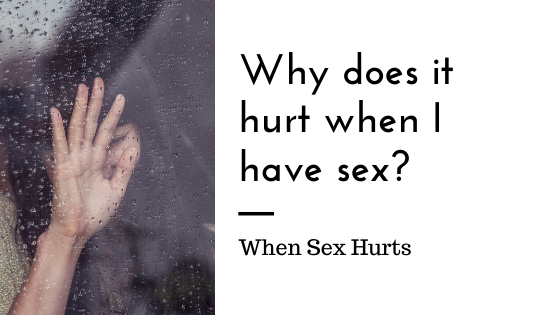 Our sexuality is one of the most private and personal aspects of our lives. Sex lives differ greatly from person to person, and there is a huge range of "normal" sexual behavior when it comes to sexual activities and pleasures. Sex (both partnered and solo) has the potential to be incredibly fulfilling, life affirming, and even comforting.
Sex can be many positive things, but the reality of it is sex isn't always sexy.
What happens when sex is painful?
Many people experience unwanted physical pain during sex. This can happen during masturbation, any kind of penetrative intercourse, or oral sex. Painful sex can occur within different age groups. Although the published research on the topic mainly looks at painful sex happening with women, man can experience this issue as well.
People can have sex for many different reasons, and it can be incredibly frustrating when you want to feel good – you are ready to feel good – but you end up experiencing pain during moments that are supposed to be pleasurable.
Experiencing pain during sex may lead people to think any of the following:
"There is something seriously wrong with me!"

"Maybe I shouldn't have sex anymore."

"I don't understand what happened – this never used to happen".

"Is this going to happen every time we have sex?"

"What should I do? I want to be close to my partner, but I don't want to be in pain."

"Am I doing something wrong?"
Involuntarily feeling pain during sex can lead people to decreased satisfaction in their romantic/sexual relationships, low mood, and anxiety. Some people may even avoid sex completely due to the pain being so uncomfortable. This can have serious consequences on a person's sexuality both as an individual and (potentially) as couple.
There is good news! Pain during sex can be caused any number of things: an infection, disease, injury, and many other different types of medical conditions.
The first step is ALWAYS seeing a medical doctor! Many times the cause of painful sex is medical, and medical doctors can help alleviate the issues you may be feeling.
However, sometimes the source of pain during sex isn't or can't be fixed with the use of medicine.
After all medical rule outs have been made, sometimes pain during sex can be thought of as a psychological issue.
There are many different interventions and techniques that specially trained therapists can teach you to help with experiencing pain during sex.
The process of becoming pain free during sex can be a long journey, but people experiencing pain during sex have been greatly helped by sex therapy.
If you (or your partner) is experiencing any of the issues discussed above, sex therapy may help! We would be happy to get started with you on working towards a fulfilling and (hopefully) pain free sex life.